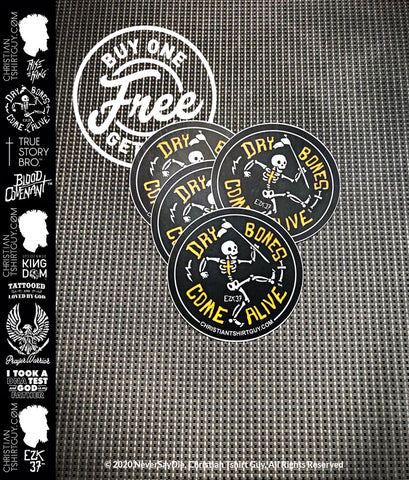 DRY BONES COME ALIVE - EZEKIEL 37 | EZK 37™ "VICTORY BANNER" V2 Decal Car Sticker BOGO
EZK 37 ™ Christian t-shirt brand is based off of the powerful truth that prophesies over dead bones to come back to life. It's a call to action for the body of Christ Jesus, to rise up - to come back to life, and in these last days WALK IN THE POWER of our Messiah! When WE get it, then we pass it on - freely we have received, freely we must give - it's the gospel message to all who will receive it.

The design is pretty self explanatory, but we, the dry bones, are holding up the victory banner - this banner is also a banner of surrender - the world would never understand this, but we must surrender in order to be victorious. All hail King Jesus!
Yup. FLAT RATE $6.95 USA SHIPPING on EVERYTHING. 
---
BOGO

- BUY ONE GET ONE

FREE

ON THIS DECAL!
( Add 1 & get 2 )
---
Durable & weatherproof
Thick, durable vinyl protects your die cut stickers from scratching, rain & sunlight.
Size:
Size: 3 inch x 3 inch, perfect size for that smaller space like phone case, laptop, locker or vehicle.
This design is copyright 

2020 

© NeverSayDie | ChristianTshirtGuy  - Sorry I have to post this, but too many "Christians" are stealing my designs, it's not OK.
---
You might also dig these bad boys:
---