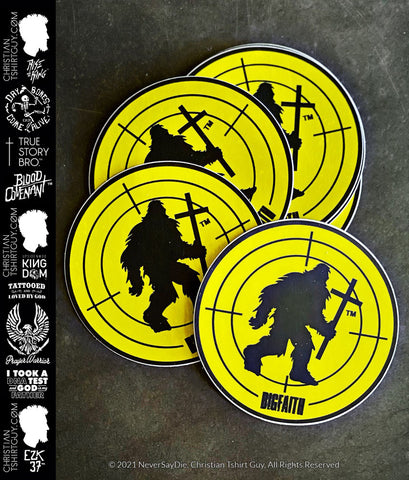 BIGFAITH™ Bigfoot Hunting Crosshair | Christian Decal Car Sticker BOGO
Show your BIGFAITH™ like Sasquatch, Yeti & Bigfoot beast-like Christian boldness, picking up your cross and following Jesus! Be wild, adventurous, purposeful, and MOVE MOUNTAINS, with your BIG FAITH! 
John 14:12-14 Says: I tell you the truth, anyone who believes in me will do the same works I have done, and even greater works, because I am going to be with the Father.  You can ask for anything in my name, and I will do it, so that the Son can bring glory to the Father.  Yes, ask me for anything in my name, and I will do it!
Yup. FLAT RATE $3.95 USA SHIPPING on EVERYTHING. 
---
BOGO

- BUY ONE GET ONE

FREE

ON THIS DECAL!
( Add 1 & get 2 )
---
Durable & weatherproof
Thick, durable vinyl protects your die cut stickers from scratching, rain & sunlight.
Size:
Size: 3 inch x 3 inch, perfect size for phone case, laptop, locker or vehicle.
Design Name:  Crosshairs - think about it :) 
This design is copyright 

2021 

© NeverSayDie | ChristianTshirtGuy  - Sorry I have to post this, but too many "Christians" are stealing my designs, it's not OK.
---
You might also dig these bad boys:
---