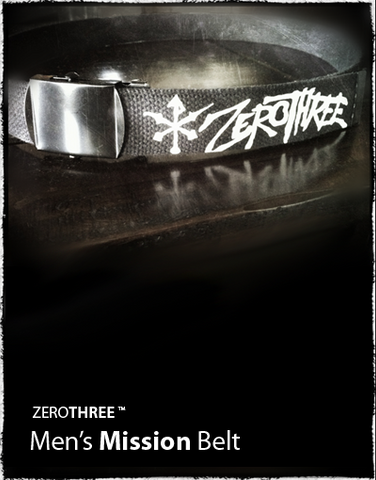 ZeroThree™ - Mission | Christian Belt
The ZeroThree™ MISSION Belt is your classic scout belt style, with the brand logo. Ever heard of a "Christian" belt? :) Well, It sports a 1 1/4" tall black cotton belt with black metal buckle. 
NO MORE "PANTS ON THE GROUND" .....(unless that's your thing)
Each size (44" & 54") option is fully adjustable, and can easily be cut down to smaller size if needed. (Need larger? Contact us.)
Sweet belt. Sweeter mission.  
**What's up with this symbol? See our home page or 'About Us' page for the powerful history and meaning of the Chi-Rho (our updated ZeroThree) symbol.
---
You might also dig these bad boys:
---