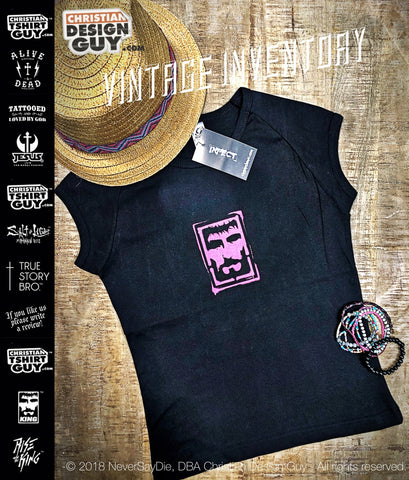 Rise with the King™ - King Issue | Women's Christian T-Shirt
Rise with the King™ is an exclusive brand of Christian Design Guy. [Christian apparel, t-shirts, decals]. An uprising is igniting across the nations. Jesus followers are uniting like never seen before in history. We, His loyal followers are rising up against the enemy. First, putting on the WHOLE ARMOR OF GOD, let us rise up in this fight together with the Resurrection Power of our Risen Savior.
 This is the King we serve - Revelation 1:8 says in the Holy Scriptures:
"I am the Alpha and the Omega—the beginning and the end," says the Lord God. "I am the one who is, who always was, and who is still to come—the Almighty One."
This Rise with the King™ "KING ISSUE" black tee features a 1 color design printed on the front center of the shirt - as seen on these pics. Join us, join the resistance against the enemy.
- The design features our exclusive KING ICON, symbol of Jesus' face - with crown of thorns. This image will be the identity of the Rise with the King line of apparel. We want the world to face the King.
THIS IS PART OF OUR VINTAGE INVENTORY. Also known as KING EPIDEMIC. LIMITED INVENTORY
Offered in our ladies slim fit, also available in other custom sizes just ASK!
Check out our other Christian Tees and other fun retro gifts.
(T-shirt only, accessories not included:)
Yup. FLAT RATE $3.95 USA SHIPPING on EVERYTHING. 
This design is copyright 2019 © NeverSayDie  - Sorry I have to post this, but too many "Christians" are stealing my designs, it's not OK. 
---
You might also dig these bad boys:
---